What's Poppin'
What's Poppin' is a column by Karsen Thompson and Ava Lockette about all things pop culture. You'll find the latest celebrity news, new movies coming out, influencer drama news, and much, much!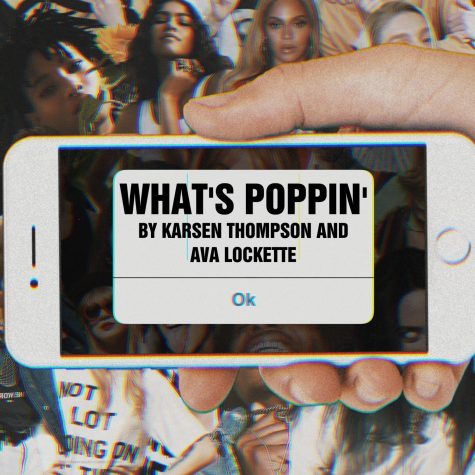 Dec. 1, 2022: The Tumblr-girl Resurgence 
Nov. 5, 2022: Is it Okay With Straight Actors to Play Queer Roles?
Oct. 6, 2022: Kanye And The Controversy Behind His Recent Yeezy Show
Sept. 8, 2022: The Curse of the Child Star
June 1, 2022: 2022 Met Gala in Review: Gilded Glamour
April 26, 2022: The Absence of Dark Skin Girls and Colorism in Media
March 24, 2022: The Nepotism Baby Takeover
March 3, 2022: The Controversy of The 2022 Superbowl Halftime Show
Feb. 17, 2022: How Euphoria has Influenced Gen Z Fashion
Jan. 6, 2022: #Surviving Sophia
Dec. 9, 2021: Britney Spears and The End of Her Conservatorship
Nov. 9, 2021:  Astroworld Turns Deadly                Oct. 28, 2021: The Reign of The Slim-Thick Influencer
Oct. 14, 2021: The Phenomenon of Squid Game   Sept. 24, 2021: The 2021 Met Gala In Review