LP UNMASKED AT LAST?
A Potential Mask Mandate Lift is Coming to Lincoln Park, How Do the Students Feel?
After two years of wearing masks and being in and out of school, the end is in sight for students. 
At the board meeting scheduled for March 14, CEO P.K. Poling has said that he plans to ask the board to lift the mask mandate for Lincoln Park. If the board approves this request, Lincoln Park would be the last public high school in the Beaver County to lift the mask mandate. 
Some of the student population has shown enthusiasm for lifting the mask mandate, and are looking forward to not having to wear a mask. 
Georgia Williams, a junior pre-law major from Sewickley says that, "I'm not a professional or anything, but I think that it'll be okay."
Guidance counselor Henry Ford puts his trust in the experts, "the CDC. I've been following the rules and it's been working with me. I trust their opinions. I trust the experts."
However, many people say they still plan to wear masks for at least some of the time. 
Arie Danko, a junior pre-law major from Ellwood City said, "I really think it should be a choice and no one should be looked at badly for wearing or not wearing one."
Kendall Modoro, a junior dance major from Beaver Falls, said she planned to wear a mask for academic classes, "but with dance, probably not."
Some students have a family aspect in mind when making their decision. 
Olive Simpson, a junior writing and publishing major from Bentley, said that "I'm going to continue to wear one because my grandfather is on oxygen." 
Some students, however, are entirely opposed to the idea of lifting the mask mandate.
Connor Vaccari, a sophomore musical theatre major from Monongehala, said that, "I don't think it should be lifted [since] immune systems aren't ready and we're gonna get it back because everyone will start getting sick again."
Sela Smith, a sophomore vocal major from Cranberry Township, had a similar viewpoint, saying that, "This is around the time everyone gets sick. It should be lifted but not now, it should be lifted at the end of school."
However, some students are resigned to the idea that masks will come back eventually.
Ashley DeRiggi, a junior theatre major from Ambridge, said, "It's not a concern. It's more of a, 'We did this before; it'll probably happen again' kind of thing."
SIREN reporters Lucas Cain, Ava Lockette, Gavin Phillips, James Ritchie, and Karsen Thompson also contributed to this story.
Leave a Comment
About the Writer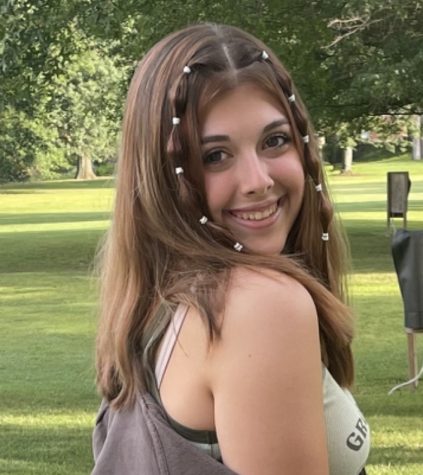 GRACE DAVIS, EDITOR
Grace Davis is a senior writing and publishing major and is an editor on the Siren. This is her second year on the Siren and the second year for her column, R.E.D.O. Your Room with Grace. When she's not writing or editing for the Siren, she can be found at her allstar cheer gym, reading, or playing video games.