BIG FISH VISITS LP'S LITTLE POND
AUTHOR DANIEL WALLACE DEBUTS NEW BOOK PUBLISHED BY BATCAT PRESS
January 12, 2023
Daniel Wallace holds up the sign he keeps on his desk. It has just two words, but it's how every book he's ever written begins—including How to Build a Coffin and Other Love Stories, officially released today by Lincoln Park's own BatCat Press.
The sign reads, "Sit Down." In an interview with The SIREN, Wallace explained its significance.
"(I)f I don't sit down, nothing is going to happen," Wallace said via Zoom, from his home in Chapel Hill, N.C. "Sometimes it's really hard. I always find something else to do, like the dishes.
"Sitting down is the very first step of the creative process," he added, "and being present for whatever happens as you're there."
Wallace will visit Lincoln Park tonight for the release of How to Build a Coffin. The event, at 7 p.m. in the Black Box, is the culmination of a three-year publishing project. BatCat Press, the nation's only high school student-run small press, is staffed by students from the Writing and Publishing Department.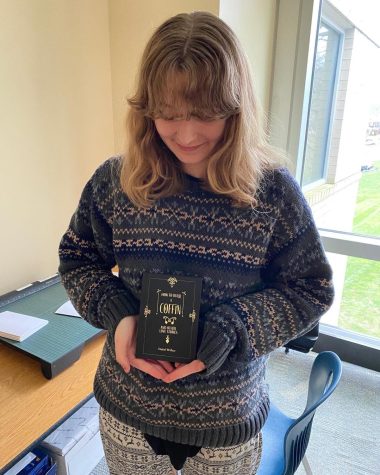 In conversation with The SIREN, Wallace explained what makes his new book so unique, the beauty of handmade books, and how learning to play the piano is similar to writing nonfiction.
THE SIREN: How to Build a Coffin is a collection of short stories. How would you describe the book to new readers?
DANIEL WALLACE: If I was describing this book to somebody who didn't know anything about it, I would say, "It's a collection of my flash fiction."
Which are stories that are extremely short; that happen in a very small space but have the same impact, or even more impact as longer stories do.
It was assembled by—really created by BatCat Press—and without them it wouldn't exist. Period. It was a true collaborative effort between us. It's been wonderful.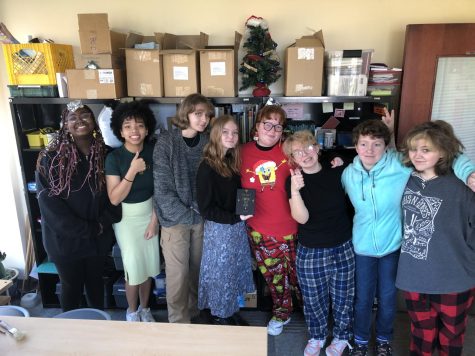 THE SIREN: Why go to a small press instead of a big press?
DANIEL WALLACE: I visited your school in, I think it was 2018, to see the musical [Big Fish] that you all put on so wonderfully. And when I was there, I was taken on a tour to all of the wonderful facilities that you have. And [I] was able to experience, to see firsthand, what you do and what you're capable of.
And when I saw the publishing arm of the school, I was immediately engaged. I saw some of their books, which are beautiful, and I wanted to be a part of that. I wanted to have a beautiful book, because for me, that's a big part of why I write at all, and why I publish at all—is to be part of something beautiful. And I knew that BatCat Press could do that. 
I have to say, I did pursue them a little bit and put myself out there. And it would have been humiliating if they said no. (Laughs)
THE SIREN: You have a range of published works. What makes How to Build a Coffin different?
DANIEL WALLACE: How to Build a Coffin and Other Love Stories is completely different than anything I've ever done before. It's very difficult to find someone— a publishing house or any entity—to do what BatCat has done, which is collect my flash fiction.
Flash fiction is so appropriate for the present moment because, first of all, it's immediate, and it's brief. You have the ability to consume an entire story in a minute, maybe two minutes. At the same time, bigger publishers aren't drawn to publishing shorter stories, and sometimes you have to look at different outlets for it. And so, this is what is so important about this book.
I tell you, it would not exist were it not for BatCat. It's not like people are dying to do this, because it's a marketing situation in the bigger publishing houses, which is "How many books can we sell and how much money can we make?" And with BatCat, it's really about making something valuable and beautiful.
THE SIREN: What does your creative process look like?
DANIEL WALLACE: Sitting in front of the computer most of the time. The creative process is a process of putting words down—well, they used to say paper. Now it's on the computer screen. As the words are assembled in front of me I get to see what it is that I'm actually writing. As you know, everyone has a lot of thoughts that go through their head that once you try to express them in print, it's much more difficult than you would think. That space between you and the keyboard and the screen sometimes seems infinite. So the process of writing is something that clarifies your thoughts.
I write sentences I would never say, I would never be able to say out loud, or even think. I'm so much smarter on the page. When revising my work, I'll look at it, and sometimes I can't believe I wrote something so wise. I am the farthest thing from wise.
THE SIREN: Did you write these stories specifically for How to Build a Coffin; if not how did you decide which ones to include?
DANIEL WALLACE: Some of the stories I wrote during the production of the book; but most of them were written before. As [BatCat] and I started looking at the array of stories to include they were all love stories. How to Build a Coffin is not usually what you would think of for a title.
THE SIREN: What is your favorite story in this collection?
DANIEL WALLACE: Let me see. I'll read through them all while we sit here. (He leafs through the book.) Have y'all all seen the book? (He holds up his copy.) So beautiful. I have it on my desk. I just look at it, and no matter what's going on in my life I'm happy.
It's really, really, really, hard. I really love (the story) "How To Build A Coffin." That's one reason we started out with that. But I will say that one of the benefits of writing short fiction like this is that you can pay attention to every single word and the space is small enough that you cannot eliminate mistakes but you can diminish them.
There is always something not to like in a novel. There is always something not to like in any kind of larger work but in these smaller works, especially since they don't take all that long to write, they take a long time to revise. You can like them all almost equally, so I am going to disappoint you by saying, I could pick one that I really liked, but I would feel bad about the other stories not being picked. I have identification with them in a way that is beyond the idea of what they really are. They're more than stories to me.
But at the same time, the washer and the dryer are more to me than just washers and dryers. This will make me seem insane, but we've had this washer and dryer for 10 years, and my wife has talked about getting a new washer and dryer. And I defended the washer and dryer by saying what a great job they've done all these years—they've never broken down; I mean they leak occasionally, but they're fine—and the idea of replacing them after they have served us so well is an offense to me.
So I have identification with things that are non-living and breathing. So I'm sorry I can't pick one that is my favorite, although that's a very good question.
THE SIREN: Have you gotten to include illustrations in your books?
DANIEL WALLACE: No, I don't often get to do that and this is another wonderful opportunity this book offered me. I love to draw, and I have always wanted to write a book that my illustrations in it.
My other books aren't really appropriate for my drawings because they're—my drawings are fun, and kind of cartoons. Because there are so many styles here…that the drawings were appropriate here.
We had talked about putting a drawing for each story, and decided mutually to limit that, and I think that's a really good idea. But having pictures at all was kind of thrilling to me.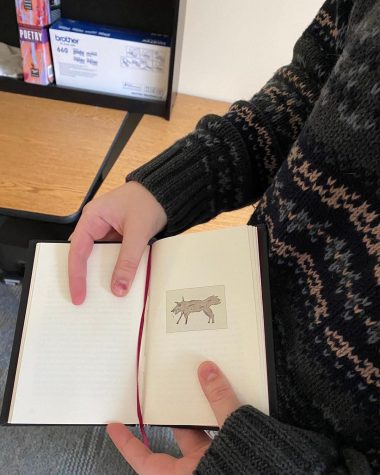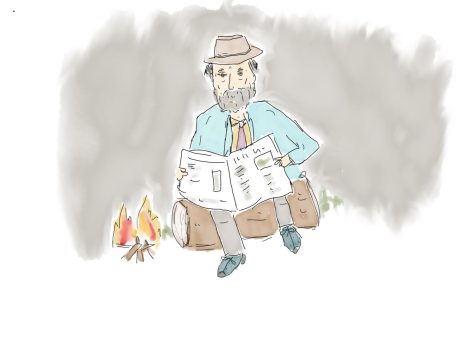 THE SIREN: You mentioned your upcoming book, This Isn't Going to End Well. What prompted you to write this book? 
DANIEL WALLACE: I'll take you back to the initial causative agent. In 2001, my brother-in-law died by suicide. And that was an event in and of itself, but it was never anything I was interested in writing about.
Then, in 2011, his wife, my sister, died. And, as we were going through her belongings, I found a box of William's journals in the back of the closet. William's who died. I struggled for a while, about whether I should read them or not because they were his private journals, and he didn't write them for anybody else to read. But, long story short, I did read them, and as I did I realized that his interior life was exceptionally different from the life, the person that he showed everybody else.
He was an icon in the whitewater world. He published ten books, he was a polymath, and kind of a MacGyver—he could fix anything, build anything. He caught copperheads with his bare hands. He was just, you know, kind of to me, kind of a modern Renaissance man.
And yet, that is not who he saw himself as. He was not comfortable in the world, and had been planning or entertaining the idea of suicide for decades. So after I read the journals, I realized that this is a story that's worth telling because it corresponds, I think, to so many people. His journals are really articulate and specific but many people do have, present themselves as one thing and mask another part of them that they don't show to other people.
THE SIREN: This Isn't Going to End Well is your first nonfiction book. How was the process of writing this different from writing your other books?
DANIEL WALLACE: Good question. It was very different. It wasn't just a different way to write, but it almost asked me to be a different kind of writer.
I didn't have the ability to make things up anymore. I had to write a story based on what I knew as it actually happened. So I was limited by that, but the limitations, as limitations so often do, allowed me to burrow deeply into the story and to create scenes that aren't original to me, but are scenes that are taken from actualities. 
That turned out to be a very difficult learning curve for me. Because it was my very first non-fiction book, I had to learn how to write all over again, and it was one reason why the book took so long to write. Every book has taken me a little bit longer, but this one [especially], with all the material I had, all the people I needed to talk to, because I did a lot of interviews for the book as well. And I'm not a reporter, so the learning curve was a significant one. 
But I believe that, especially as you get older, that it's important to have experiences in which you're not the best at it. You should put yourself in situations where you're learning all the time. So that was another reason to tackle this project. 
(He motions to a keyboard in his office.) I mean, it's a similar thing that I'm doing with playing the piano. I cannot play piano, but I'm trying to. And it's good for somebody who is as ancient as I am. (Laughs)
Daniel Wallace will appear at Lincoln Park at 7 p.m. Thursday in the Black Box to read from his new book, How to Build a Coffin and Other Love Stories. Admission is a donation to the American Red Cross; there will be donation stations set up in the atrium. BatCat Press will be selling copies of How to Build a Coffin in the atrium, and Daniel Wallace will be signing copies.