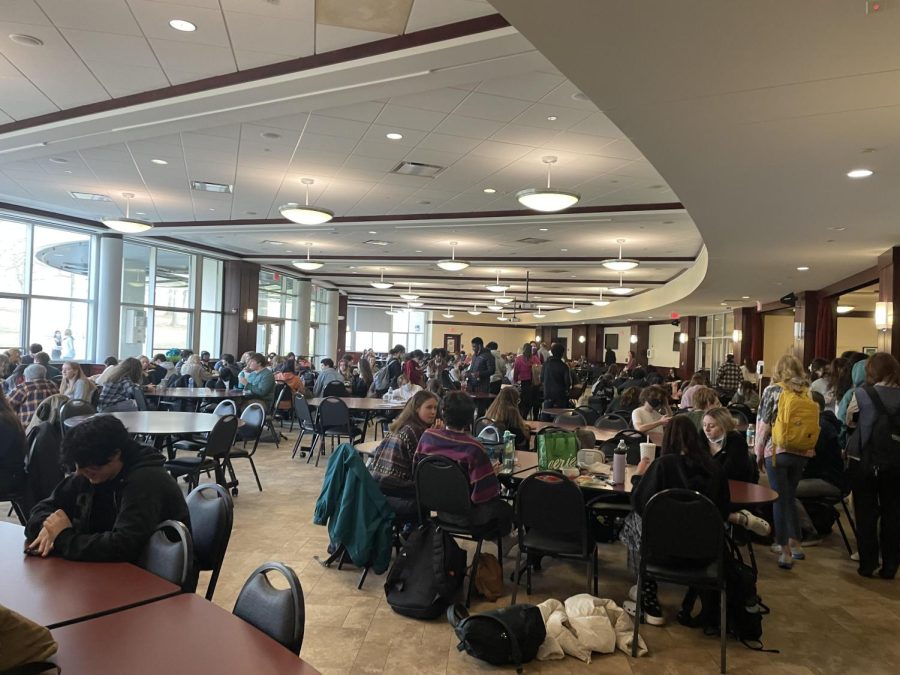 THIRTY MINUTE LUNCH PERIODS – LP STUDENTS VOICE THEIR OPINIONS
June 7, 2022
It's no secret that Lincoln Park Performing Arts Charter School students have varying opinions on the thirty-minute lunch periods they get at school. Some shed a positive light on the topic while others diss the situation every chance they get. Of course, there are also those who remain neutral on the issue and barely have an opinion on the seemingly bittersweet lunch periods. 
When asked what she thought about the lunch periods at Lincoln Park, Emma Wagner, a junior music major, responded that she thinks "30 minutes is a reasonable time for lunch in general, but not when we only have three food options. One is completely gone in two seconds [which] leaves the other two lines extremely long." She then proceeded to say that by then, "You get ten minutes to eat. It's not enough time if they're not gonna feed us." 
Wagner's views help to showcase a matter of lunch periods that seems to have been a problem recently, especially with Covid precautions still in place. She suggests that "If the lunches were back to how they were freshman year, thirty minutes [would be] good. But now… I feel like I have no time to eat." Emma has also told me that before Covid struck, the school cafeteria had more food options for students, therefore decreasing the amount of people in each line. 
Magdalena Shadel, another junior music major, essentially agrees with Wagner that the school lunch periods are too short. She states, "I think it should be extended especially for our school. Since our classes are so long I think we should have a longer break. Not only that but since the lines get so long we need more time to actually be able to eat our food." 
It seems that one of the most popular reasons why Lincoln Park students think thirty minutes is not enough for their lunch period is the particularly long lunch lines. However, there are some students who remain neutral in this issue so far. 
For example, Nathaniel Curry, a junior media major, states that, "Throughout my time at LP I have gotten used to the schedule itself really, and thus I am neutral neither hating nor liking the allotted time. 
To dive further into the issue, I proceeded to ask these students what they would do if they had more time during their lunch period, to which they all responded with a general "socializing with friends." 
To move onto a different aspect of this issue, I asked Curry if he thought his mental health would improve with a longer lunch period, to which he answered, "Yes it would! I think overall just being able to talk with friends a bit longer would help with stress during the school day!"
Shadel also took a similar stance when asked this question, saying "Honestly probably. Just being given a longer break I think would be really nice to help me destress." 
Could longer lunch periods be a solution to stressed and overwhelmed students? It also came to my attention that long classes can be a reason amongst students for wanting a longer lunch period as well. Wagner stated that she will "die if I don't have long enough of a break between classes with already long classes." 
So clearly, a longer lunch period is wanted amongst a number of students at this school, so what could we do to provide the students with this?
"I feel like that's a hard one because our schedule is already pretty solid, there's not a lot of free room," Wagner says, "Maybe if we cut down some class times." 
This introduces a concept that can be grasped by students and staff alike. Given that the school day is separated into blocks, all averaging an hour and twenty minutes each, could it be possible to take away some time from each block? 
Curry seems to think so, stating that "By even cutting it by a few minutes would help (to extend the lunch periods)." 
Seeing the different views on this rather controversial school topic is certain to be eye-opening. It seems that the general student population would appreciate a couple extra minutes to eat their food and talk with friends, therefore possibly improving their mental health. Could extending the lunch periods provide a better school experience over all to the student body here at Lincoln Park?