WHO IS YOUR FAVORITE FEARLESS HERO?
Puss In Boots: The Last Wish was a movie that filled me with pure joy. I loved Puss in Boots as a kid, and I love Puss in Boots even more now.
The animation style is one of my favorites: comic book style, which is 2D animations over a 3D model. It's the same kind of animation used with Spiderverse or The Mitchells vs the Machines. It works great for this movie with the action popping out with the bright colors.
The plot is interesting, and the characters really shine. Goldilocks (Florence Pugh), the bears (Olivia Coleman, Samson Kayo, Ray Winstone), Big Jack Horner (John Mulaney), and Perrito (Harvey Guillen) are all excellent new characters and side characters. I will say, however, that all the characters seem more important than the journey that Puss in Boots (Antonio Banderas) takes, so that threw me off.
This is the first animated "kids" movie I have ever seen that shows a main character going through a panic attack. As someone who has panic attacks, it's very nice to see someone that I loved as a kid (loved as in admired) share troubles with me that are real. This is why it's so important to show things to kids that weren't shown before. Children who see things like panic attacks, gay couples, and genderqueer characters feel seen because of this. The world cannot be white and black anymore and neither can entertainment.
The villain in this is actually scary. Like I got chills from Death (Wagner Moura) and his intimidation tactics. He's scary, and it's not necessarily something I would let my youngest sibling watch right now, but I definitely would watch it again with my other younger sibling.
This movie is great; I just wish it didn't focus too heavily on the characters instead of the journey.
Leave a Comment
About the Contributor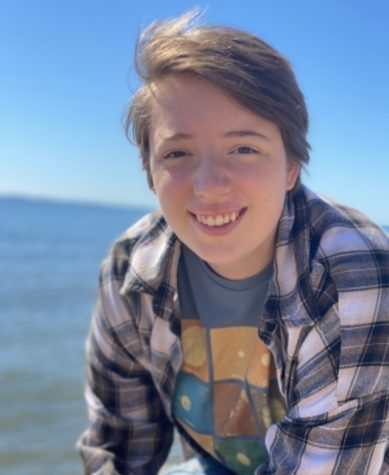 OLLIE WARREN, STAFF MEMBER
Ollie Warren is a SIREN Staff member in 11th grade. They write the column Flip Feature.