LET'S TALK ABOUT CONVERSION THERAPY
DIVING INTO AN LGBTQ+IA HOT TOPIC
Often, when the discussing of rights for people in the LGBTQ+ community, the argument consist of two sides: anti-pride and love is love.
A common word that is thrown around is hetero-normalcy, which is the belief the sexual orientation minority (homosexuals) should not dominate. As others may disagree.
That's were conversion therapy is on a tight rope with citizens pulling, or pushing against for this to continue.
Today, there are still 30 U.S. states that fund these organizations.
Zoe Gianfranceso wanted to inform readers about the negative effects of this practice. "Whenever you send a child to conversion therapy, that child has more of a chance to kill themselves," the junior writing and publishing major  from Monaca explained.
"[I]n the past and currently, there has been electroshock therapy, brain surgery, and harmful medical procedures to 'make people straight.' And honestly, those are long lasting trauma[s] for people who recover through traditional therapy from what they have gone through," a Citizens Climate Lobby LGBTQIA+  leader named Callum Cintron said. 
"A licensed clinical psychologist, he believed that our bodies tell us who we are, and that our bodies have made us for heterosexuality…[Reparative therapy ] was aimed at people who do not identify with their same-sex attractions." These quotes come from Dr. Nicolosi, a famous psychologist.
But, Cintron gives their personal experience on the subject of sexual orientation, "I don't think people are uncomfortable with their sexuality…I think people end up thinking…[For example,] I was like 15, and the first thing I said to a friend was, 'I wish I wasn't gay'. And it wasn't because there is nothing wrong with being homosexual, but because [people] see those identities as lessor it was just gonna be another burden in my life," Cintron, resident of New Jersey states. 
When putting this article together, I requested to interview over a dozen Conversion Therapy organization to speak on the subject and I only heard back from two, who did not follow through with the request.
On the other hand, Westboro Church did send a member to discuss this topic with a SIREN  writer,  Shirley L Phelps-Roper, who is from Kansas. 
"…The Bible says it over and over, 'God hate Pride,' and it says, 'prides ends before the fall' and when you have a nation that is steeped in it. There pride, it's Pride month, it's Pride week, it's Pride Parade…and if they would just bother to read then, that is not the place to be, then they would not be in all this trouble…But, they didn't and, we are."'
"…Have great pity on any soul that does not understand…So, I am saying we don't control the hearts, we have to stick to these words. And be faithful to the saying of them. And, how they see that, that is Gods business and it is between them, and God, no Conversion Therapy here," Roper,  who is also an Attorney replies with. 
Roper also sent along anti-Pride Bible verses.
However Gianfranceso, ends with the opposite perspective, "Protest aren't as popular for Conversion Therapy for LGBTQ+ rights anymore…But, I think protesting is a really good thing to go about." 
Leave a Comment
About the Writer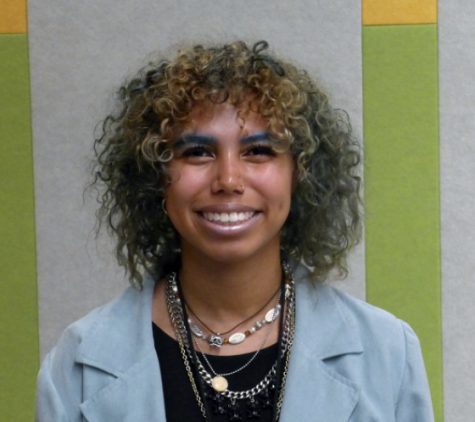 JADE DAVIS, VIDEOGRAPHY AND PODCAST DIRECTOR
Jade Davis is a current senior writing and publishing major who works as the Senior editor-videographer-podcast creator-photojournalist position for the
SIREN
newspaper.