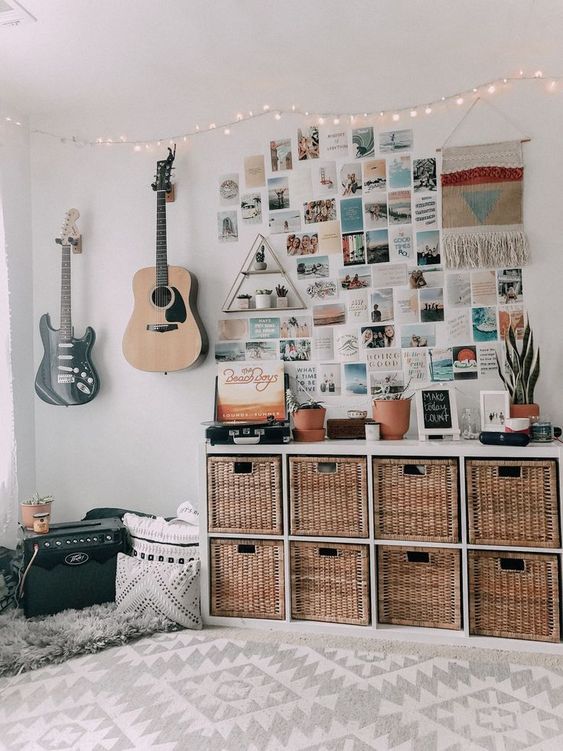 VSCO – A PHOTOGENIC AND PERSONAL ROOM AESTHETIC
R.E.D.O Your Room With Grace
May 24, 2022
This aesthetic might throw you back a couple of years, back to the big boom in popularity of scrunchies, Hydro Flasks, and oversized t-shirts paired with messy buns. 
VSCO.
"Oh lord Grace, why are we going back to this?" you might ask yourself as you pull on your hair, beads of sweat starting to form as you remember the days where you were either the definition of a VSCO girl, or you hated them. There is barely an in between it seems. 
Well hear me out, the VSCO aesthetic actually makes a very nice room aesthetic – if you're into that sorta thing. This room aesthetic also can be very different from the days you remember, so let's take a look at what exactly it entails, and see if it can sway your opinion on VSCO.
The VSCO room aesthetic often gets confused with the so-called "TikTok" room aesthetic, but they are not quite the same. While they share similar aspects, VSCO has more of a boho and beachy vibe to it while the TikTok aesthetic is mainly focused around quick trends circling around on the app.
You know, now that I think about it, the TikTok aesthetic is somewhat like fast fashion. But enough about that for now. If you're interested in learning more about the TikTok aesthetic, keep a look out for a column about it in the near future. 
Anyways, back to the VSCO aesthetic. VSCO, also known as a photo editing app, is based around the types of bedrooms you would find on this app, and the vibes that go alongside them. Based around a mix of, normally, boho and beachy aesthetics, it's quite a cozy and bright room aesthetically. 
For the room's colors, a light pink, light blue, or white is most common to color the walls. Oftentimes, these walls are decorated using a variety of minor colors that all tie into the bigger picture. Sometimes, pastels are also incorporated into these rooms. 
For example, a white room with a variety of light pink shades in the decor is a very common VSCO bedroom. This style of bedroom tends to lean more towards the boho vibes of the VSCO aesthetic. 
Another, perhaps more, common example of a VSCO bedroom is a light blue room with white and wood colored decor and elements. This bedroom tends to bring in the beachy vibes of a VSCO room.
The VSCO aesthetic tends to have a simpler, cleaner look to it, so the furniture found in this type of room is a simple build with either a white or wood coloring to it. 
When it comes to the types of decor found in this room aesthetic, it can range dramatically, all depending on what the person likes. In VSCO aesthetic rooms, it's common to have the person's interests displayed through the room, so some decor might consist of items from those interests. Some other types of decor that are popular are vines and succulents, neon accents, fairy lights, macramé, photo collages, and hanging chairs. 
Collage walls have to be one of the most popular pieces of decor in any room aesthetic, but especially the VSCO aesthetic. Collage walls can be any number and style of prints; it all depends on the person's interests! Some collages can be centered around a certain color or aesthetic, but nonetheless, collages are an amazing way to add personality to your room.
VSCO rooms are also known for looking comfortable, so an essential part of the room is a ton of soft pillows and blankets. Decorative rugs also add to the room's vibe and overall look. 
If you're someone who likes to come home to a comfy bedroom filled with personality and boho vibes, the VSCO aesthetic might be a good option for you!