ARIANA GRANDE R.E.M. MAKEUP REVIEW
May 26, 2022
If you haven't heard, not only can Ariana Grande's makeup collection be purchased at rembeauty.com, but your local ULTA is fully stocked! That's right; from lip stains to eyeliners, the cosmetic list is endless! A firsthand review was conducted by SIREN staff to see what all the fuss was about.
The item that expenses were used for was Grande's, "at the borderline kohl eyeliner pencil," in the color of, "so mod."
As for packaging, the box cites that it is sustainable for the environment. Presentation wise, it was simply just white with black, tiny wording all over.
Now onto usage: the liner had a butter sensation to the touch as I drew in the pencil lines. Even with a Q-tip, removing smudges was difficult due to the "long-wearing" factor. Hence, regarding the final result of the cosmetic, I found it to be flattering to the eye.
Specifically, I was shocked with how bright the lines presented. The consistency had similar qualities to a crayon, creating a boldness with each curve of the rounded look I chose for myself.
The Kohl pencil is supplied with the feature with a twistable bottom, so the consumer may adjust the length. However, it does seem that you would be able to sharpen this pen at all; when it comes to its last use, you must by a new one.
Personally, I would say if you were looking for a new eyeliner, I would go with the R.E.M. brand, due to the fact that it touches on product flaws in the beauty industry. To clarify, the "so mod" does not seem to experience the issue of rubbing away with one swipe, or dripping due to sweatiness, and you could get away with wearing it all day!
It gives a distinct look too, very astrological, added with a bit of confidence. You don't even need to add foundation, eyeshadow, or concealer to make your eyeliner stand out!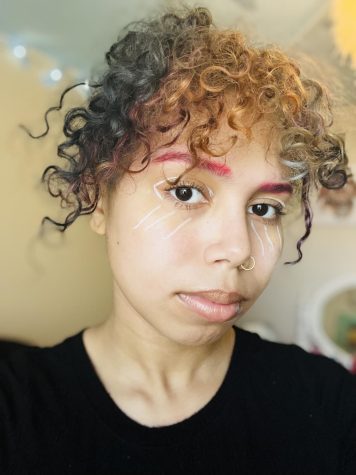 Likewise, "the borderline kohl eyeliner pencil," in the color of, "so mod." is a 10 out of 10 for me. And even better yet, the price rand is affordable, ($17.00)!
On another note, keep your eyes peeled for more the singer to continue to drop more cosmetics. THEY ARE IN THE MAKING…