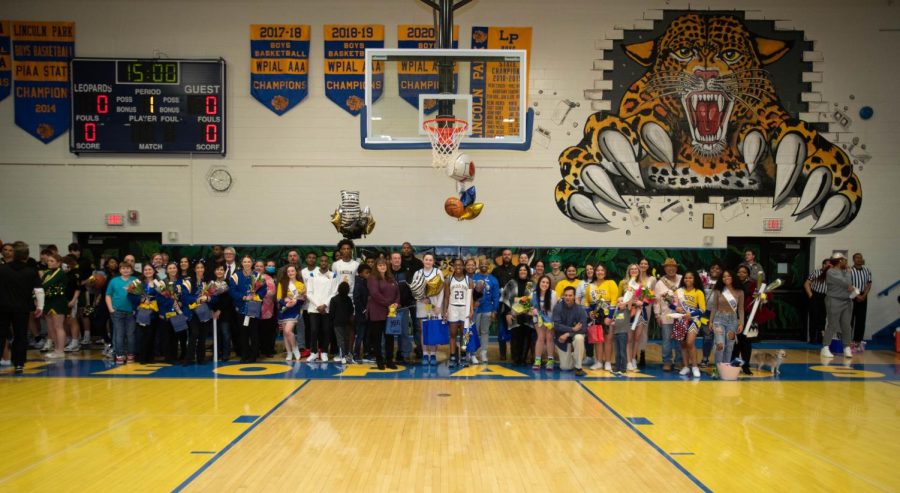 Michael Longo
Last Friday, February 11th, it was senior night for the girl's basketball team, boy's basketball team, and the cheerleading squad. As any senior night goes, there was an aura of nostalgia throughout the gym. Though both of the teams advanced to playoffs, this was the end of an era. 
I spoke to senior members of all teams about this era. As they finish up their senior season, waves of emotion, remembrance, and appreciation seem to take precedent. 
First I spoke to Alexia Wagurak. She has been cheering for the past three years. She explained how "On senior night, I felt proud of myself and everyone else who walked. It was amazing hearing everyone cheer for me as I walked down and heard all of my accomplishments from high school being announced. I felt loved, and I could tell my teachers, family, and classmates were proud of me." The feeling of pride and love seemed to be synonymous throughout the gym. Being surrounded by support during senior night is an invaluable experience, one that everyone seems grateful for. 
I then spoke to Jayleigh Mangus, a four year girl's basketball team member. Though her team advanced to playoffs, they recently suffered a season ending loss. On senior night, certain memories seem to arise. For Mangus, these memories surrounded "All of the fun times I've had playing basketball and the memories that would last a lifetime I made with my team and coaches. I thought about everything: anywhere from simply practicing to all of the amazing trips my coach took us to having the time of our lives with each other in the hotel rooms. All my favorite memories definitely come from just spending time with my teammates." 
Finally, I spoke to LA Pratt. He has been on the boy's basketball team for three years. Though the girl's season has come to an end, the boy's are still furthering their journey into playoffs. Pratt gave insight on what he was looking forward to going into playoffs in explaining that he wanted to "Enjoy this last regular season game of my senior year. Obviously we want to win the WPIAL and state championship, but the biggest thing is just having fun and enjoying the rest of my time in high school. We have 14 more days until the WPIAL championship, if we make it. So it's really just trying to enjoy every day and just embracing all of it around me with my teammates, coaches, and friends." SEE WHERE BOYS ARE SUNDAY TO PROMOTE NEXT GAME.